In a bizarre statement, the Philippines Bureau of Corrections Director, General Ronald Dela Rosa, has called on anyone to be executed for drug offenses, even for those who are caught illegally possessing small quantities of controlled substances.
The statement follows the overwhelming support of politicians for a bill reintroducing the death penalty for drug-related offenses.
Dela Rosa said those convicted of carrying drugs such go 'straight to lethal injection'. This would include those convicted of carrying small amounts for purely personal use.
Fortunately, Dela Rosa has no legislative power whatsoever. Dela Rosa said during a recent interview that 'if it were up to me, any offense should receive the death penalty as long as it involves drugs'.
These worrying words were uttered only days after politicians overwhelmingly voted to reintroduce the death penalty for drug-related offenses.
The bill states people convicted of importing, manufacturing or selling drugs will be eligible for death by hanging, lethal injection or firing squad.
Also, those convicted or running a drugs den or possessing 10 grams of heroin, cocaine or methamphetamine or 500 grams of cannabis will also be subject to the death penalty.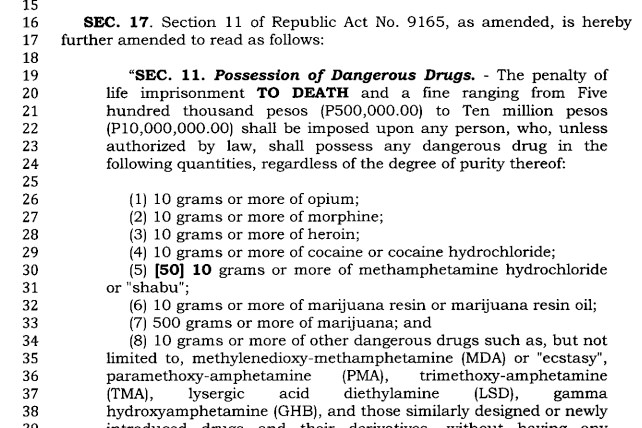 The Philippines President, Rodrigo Duterte, is also well known for his hard line against drugs. President Duterte has strongly supported the passing of this bill that's set to reintroduce the death penalty. He said: 'Capital punishment is not only about deterrence, it's also about retribution.'
Dela Rosa is politically aligned with President Duterte because the former served as police chief in the same city where the latter served as mayor. Dela Rosa supported Duterte though out his campaign to become president, and that support paid offer when Dela Rosa became the chief of the Philippines National Police (PNP) only a day after Duterte was inaugurated as president.
The PNP is accused of committing thousands of extra-judicial killings of people suspected of committing drug offenses. These killings have intensified since Duterte and Dela Rose came to power in 2016 and 2017 respectively.
This Bill reintroducing the death penalty will undergo a final legislative reading in the Senate. Whilst this Bill awaits this hearing, extrajudicial killings will continue throughout the Philippines.